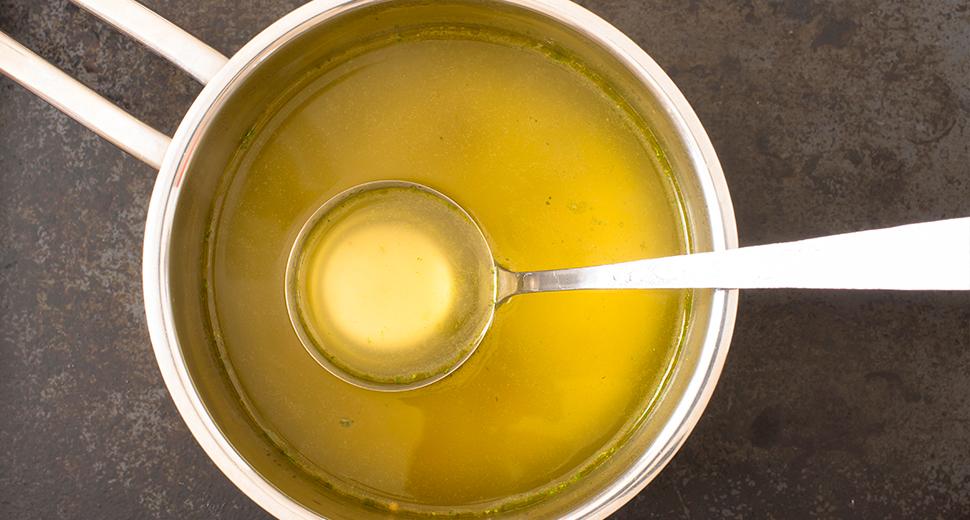 After a season of indulgence you may be tempted to completely abstain, but January can be tough enough, so why not try a few easy-to-stick-to dietary tweaks to counteract the excess. My staple for a healthy January is a delicious chicken broth, packed with nutrients to help boost and repair. Minerals help support the immune system while collagen helps to heal your gut lining and reduce intestinal inflammation, making this the perfect antidote to the festivities (and wintery bugs). I keep a supply on the go and use it as the basis of soups and sauces, or in its pure state as a tasty, warming drink. It's so simple to make: just throw the Sunday roast chicken carcass into a big pot with lots of water, an onion, leek, carrot, celery, bay leaf and peppercorns. Simmer for around 24 hours until you get a slightly gelatinous broth, then strain and chill, or bag up for the freezer. Try it in this: 
IMMUNE-BOOSTING CHICKEN SHITAKE NOODLE SOUP (serves 2)
2 pints chicken broth
1-2 cubed chicken breasts + 6 crushed garlic cloves + 3 inches peeled and
grated fresh ginger + 1 inch grated fresh turmeric (or 1 tsp of ground)
1 tbsp mirin + 2 tbsp tamari soy sauce + a handful of washed coriander + cooked rice noodles
1 punnet of shiitake mushrooms
Add the chicken, garlic, turmeric and ginger to the hot broth and simmer for 5-10 mins. Slice then sauté the shiitake mushrooms in coconut oil until crispy around the edges and reserve for serving. Add the mirin, tamari, rice noodles and coriander to the broth mixture and adjust seasoning, then simply bowl-up, sprinkled with the mushrooms – and enjoy!
For more tips visit the www.theconscientiouscook.co.uk