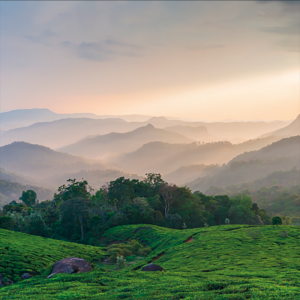 OUR TOP 5 THINGS TO DO IN SRI LANKA
Our Top 5 Things to do in Sri Lanka
Focusing and sharing knowledge on the countries that have influenced each of T London's collections is extremely important to us. Each place is a source of inspiration for each of our blends, capturing aromas and special moments and we want to show how these places have significantly contributed to our creations.
T London's Dimbula blend is a distinctive and freshly spiced fragrance inspired by the high-altitude teas grown in the Dimbula mountain plantations of Sri Lanka. Our founder, Jayne wanted to capture a key moment from her trip to Sri Lanka, a feeling calm and being in tune with life. It is one of her favourite travel destinations and she always feels a sense of tranquility and calm when she is there.
The fresh oceanic air and the aromatic local spices, the heat of the beautiful beaches with the region's Dimbula tea all contribute to our blend. The sea salt accord brings in an element of fresh island air along with honeyed notes to get a sense of the true Dimbula tea aroma. 
From wild rainforests, to sandy beaches and highlands, Sri Lanka is such a beautiful and historic place to visit. Here are 5 things to do in Sri Lanka for a remarkable and memorable experience.
 1. Dimbula 
Dimbula– an elevation of approximately 5000 – 6000 ft. above sea level, is famous for its historic temples, markets and tee! It's a must. Head to a local spice market, the bright colours and wonderful aromas were a huge inspiration to us. 
Purchase spices to bring home and cook with and take the opportunity to book a cookery lesson and learn first-hand by the experts how to use Sri Lankan spices and make local dishes 
If you like caves don't miss the most stunning caves we have seen: Royal Rock Temple with royal Buddha paintings, statues and evocative art. This is the place to see beautiful, historic and embellished cave art.
2. Hotels: from boutique to jungle cabin
At T London, we believe hotels and accommodation contribute hugely to your travel experiences so it's important to pick wisely and explore the range of options that you have. 
The Tri hotel was featured in Conde Nast and Vogue, it is a sustainable and luxury hotel and has only 10 unique suites. Living walls, green roofs, solar hot water, and entirely local materials encompass its philosophy. Or for those who want an ocean view, the Fortress is hard to beat.
3. Festivals
One festival we would recommend is Vesak Poya, the festival of lights which occurs in May. It commemorates the three most important milestones in the life of Gautama Buddha – His birth, enlightenment and Parinirvana (Nirvana after death). People celebrate this with beautiful paper lanterns and KUDO which are large lanterns surrounded by small ones. There are competitions for the best decorated and most intricately detailed ones and they use natural materials to highlight the beauty of nature. It's an amazing experience and not one to be missed. 
Ramadan – the festival of breaking the fast occurs in June. This means all the hotels on the island lay out a huge spread of delicious, local foods to celebrate the fast ending!
4. Beaches
Sri Lanka is home to some of the most amazing beaches in the world. There are a plenty to visit, take in the smell of the fresh ocean and bury your feet in the warm sand. We love remote, secluded beaches, off the beaten track. Look out for fishermen on stilts with seriously impressive balance! 
5. Sinharaja Forest
If you're a nature lover then you should head to Sinharaja Forest, a national park with a variety of wildlife and natural beauty. It is an undisturbed area of rainforest which is of high importance to Sri Lanka's ecosystem. Take in the natural beauty, smell the raw tones of life and earth and walk with gentle giants in the elephant sanctuary.